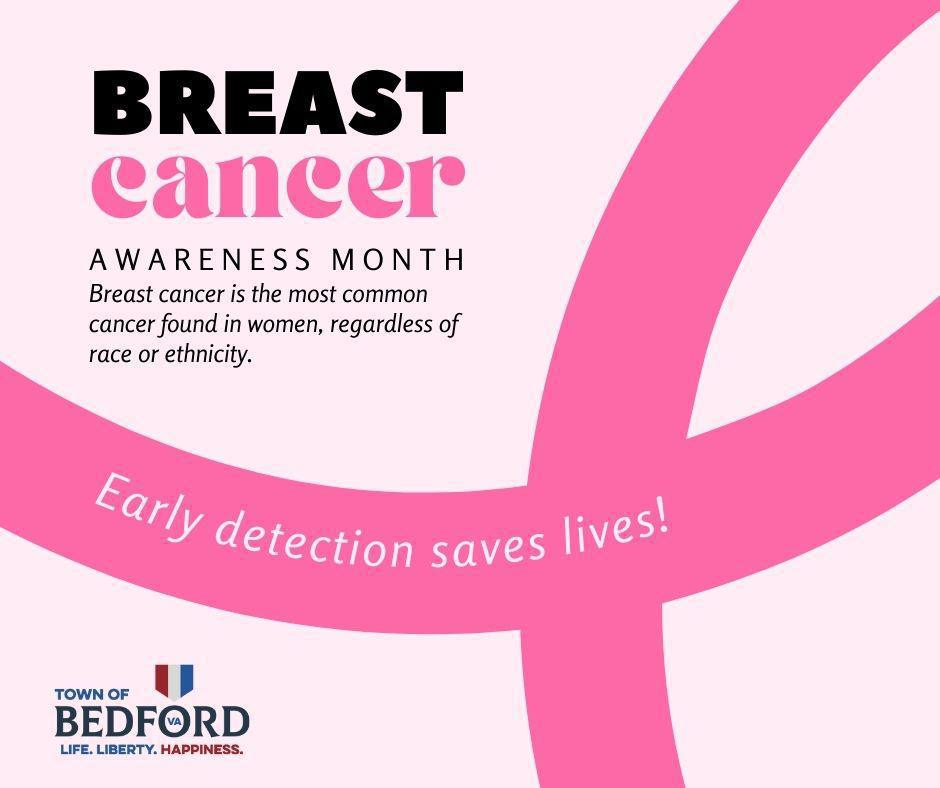 The Town of Bedford partnered with Centra Health earlier this year to bring a focus each month on a Health, Wellness and/or Awareness topic. Each month the Town has had a display in the Municipal Building lobby with helpful information regarding the focus of that month. Citizens of the Town are welcomed and encouraged to come by and visit the information displays each month. Some months have involved health checks like blood pressure and diabetes screening.
October is a BIG MONTH for this awareness program as both Domestic Abuse Awareness as well as Breast Cancer Awareness are being highlighted together. Visitors to town will see this highlighted with the pink and purple bows on the lamp posts in the center of town. The Town will once again turn the front fountain pink through October.
For the first part of the month the focus will be on Domestic Abuse Awareness. There will be a representative from the Domestic Abuse Shelter on site in the lobby at the Town Municipal Building on Friday, October 6th from 9:00am until noon. October 2nd -16th is dedicated for Domestic Abuse Awareness.
Then, from October 17th through the end of the month, the focus will be on Breast Cancer Awareness. There will be representatives from Centra Mammography Department on hand at the Town Municipal Building from 9:00am until 11:45am on Friday, October 20th. As part of Centra's "Paint the Town Pink" campaign, which is a fundraiser to pay for mammograms for under- or uninsured persons, everyone is invited to meet at the Town Clock at Centertown Plaza at noon for a Paint the Town Pink photo on October 20th.
There is also a "Paint the Town Pink" contest for best decorated storefront. Everyone is encouraged to "get your Pink On" and be aware of your health and that of others. For the storefront decorating contest, send contest photos to mary.buchanan@centrahealth.com on October 20.