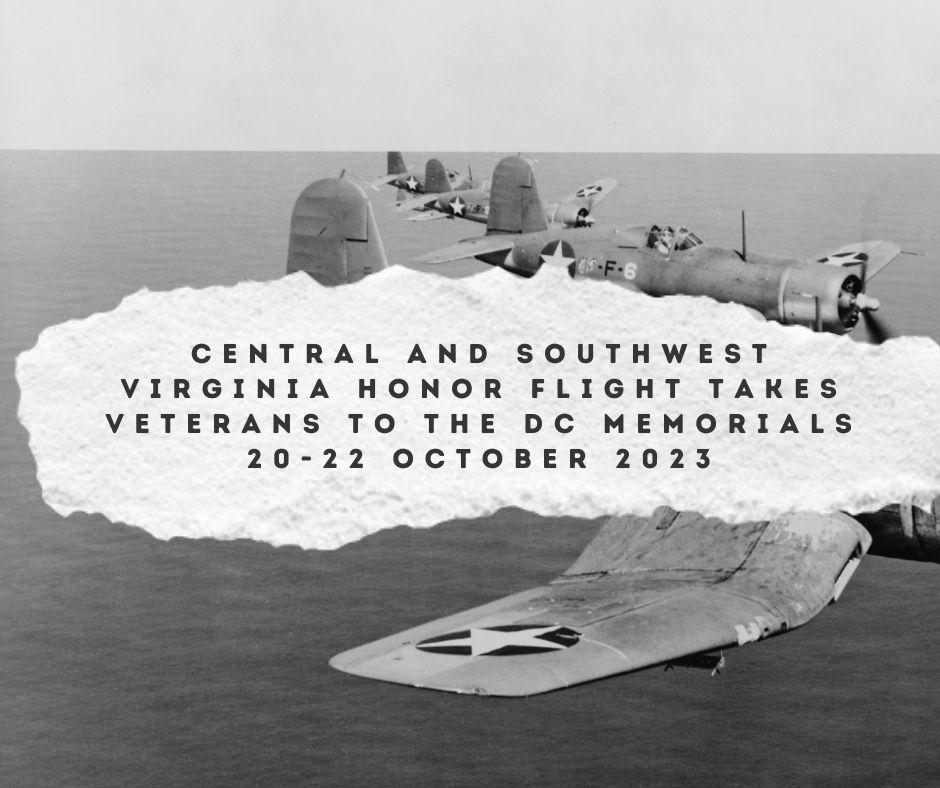 Bedford, VA: Central and Southwest Virginia Honor Flight will execute Mission 7 on 20-22 October 2023, taking area veterans from the World War II, Korea and Vietnam service eras to Washington D.C. free of charge. The trip will depart from the National D-Day Memorial in Bedford, Virginia on Friday, 20 October 2023 at 10am and return to the D-Day Memorial on Sunday, 22 October at approximately noon. The hub will be bringing area veterans to the war memorials created in their honor and will be the journey of a lifetime for many who were never properly thanked for their service. We will be taking two World War II, three Korean War and twelve Vietnam War Veterans with us on the October trip. One of our World War II Veterans will celebrate her 104th birthday during the trip.
Vietnam Veteran Kathryn Whorley Norris Campbell said of her April 2022 trip: "Being able to be go on this trip has been something that I will never forget and being with you all has been such a blessing to me. A lot of closure that I didn't realize I needed from way back, just being able to talk with my brothers about some of their time was such a help and healing. You and everyone of your staff made each one of us feel so special and treated us all with the most respect I think I have ever witnessed at one time in
such a group." The Honor Flight Network began in 2005 to take World War II veterans to the National World War II Memorial in Washington D.C. at no cost to them. As of 2022, the network has escorted over 250,000 veterans to their memorials. Time is of the essence for our area WWII veterans. According to U.S. Department of Veterans Affairs statistics, just more than 167,000 of the 16 million Americans who served in World War II are alive today. The VA reports that 180 World War II veterans die each day.
Each veteran is also accompanied by a trained volunteer guardian whose mission is to assist the veteran in any way they can—by pushing wheelchairs, carrying belongings, or simply joining in a day full of celebration and reflection. While veterans' trip costs are paid for in full, guardians are asked to make a donation of $400 to cover their trip costs. Guardian applications are screened and accepted on a first come first served basis.
Honor Flight trips prioritize WWII and terminally ill veterans, with Korean, Vietnam and later service eras considered on a space available basis. Honor Flight trips are free of charge to the Veterans. To apply as a veteran or a guardian on future trips or for more information, visit www.cswvirginiahonorflight.org.
Central and Southwest Virginia Honor Flight is recognized by the Internal Revenue Service as a 501 (c)(3) non-profit organization. Contributions are tax deductible.
For more information or to schedule an interview, contact Martin Leamy at (540) 589-0014 or
martin@cswvirginiahonorflight.org