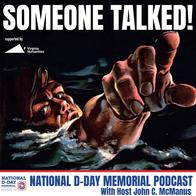 Someone Talked! is the official podcast of the National D-Day Memorial.America's preeminent naval historian Craig Symonds joins our hosts to discuss his latest work, the first full-length portrait of Chester Nimitz in more than 50 years.In our "We Salute You" segment, hear the first-hand account of James Buchanan, a junior officer on Nimitz' staff.

Explore the National D-Day Memorial, plan your visit, and learn about upcoming events at dday.org. This program was supported by a grant from Virginia Humanities.

To learn more, visit VirginiaHumanities.org. Email the Someone Talked! team at podcast@dday.org.