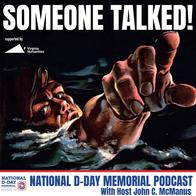 Someone Talked! is the official podcast of the National D-Day Memorial.
Wanna read Patton's diary? Author Kevin Hymel did. Hymel returns to Someone
Talked! to discuss volume 2 of Patton's War: An American General's Combat
Leadership.

Hear the story of one of five known African Americans to die on D-Day, Abner Adams of
the 4042 nd Quartermaster Truck Company, in our "We Salute You" segment.
Explore the National D-Day Memorial, plan your visit, and learn about upcoming events
at dday.org. This program was supported by a grant from Virginia Humanities.

To learn more, visit VirginiaHumanities.org. Email the Someone Talked! team at
podcast@dday.org.