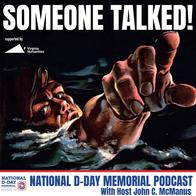 Someone Talked! is the official podcast of the National D-Day Memorial.Craig Symonds, Professor of History Emeritus at the United States Naval Academy, returns to continue our discussion of Nimitz at War: Command Leadership from Pearl Harbor to Tokyo Bay.

Learn about the lesser-known mission, "Saving Lt. Plateck" as told by Corporal Herschel Brohinsky in our "We Salute You" segment.

Explore the National D-Day Memorial, plan your visit, and learn about upcoming events at dday.org. This program was supported by a grant from Virginia Humanities.

To learn more, visit VirginiaHumanities.org. Email the Someone Talked! team at podcast@dday.org.