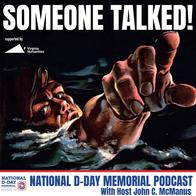 Angels Against the Sun Part 2 with James M. Fenelon
Someone Talked! is the official podcast of the National D-Day Memorial.
Paratrooper-turned-historian James M. Fenelon re-joins our hosts to discuss the 11 th
Airborne Division's Pacific campaigns, narrated in his latest book Angels Against the
Sun.

English at birth and American by wartime, Charles Rippon returned to England to train
but never made it home to Pennsylvania after D-Day. The story of his service is in our
"We Salute You" segment.

Explore the National D-Day Memorial, plan your visit, and learn about upcoming events
at dday.org. This program was supported by a grant from Virginia Humanities. To learn
more, visit VirginiaHumanities.org. Email the Someone Talked! team at
podcast@dday.org.